The Artic Frame System
Artic Frame in a nutshell: a CNC-machined post & beam frame, made-to-measure timber framing and the surface materials of your choice.
The Artic Frame system is our answer to the need of well-insulated wooden homes. This building system also gives us the opportunity to design larger open plan designs than the more traditional Log Home system. The internal surfaces can be plastered, lined with wooden panels - you have absolute freedom of choice over materials when building with this building system. Also the external surfaces fall under the same rule: the most common external lining material is wooden cladding, but rendered panels or other materials can also be used.
Our standard wall coverings are either plaster board or wooden panels on the inside and wooden cladding on the outside. All details are available when asking for a detailed quotation.
Ecological and fast to build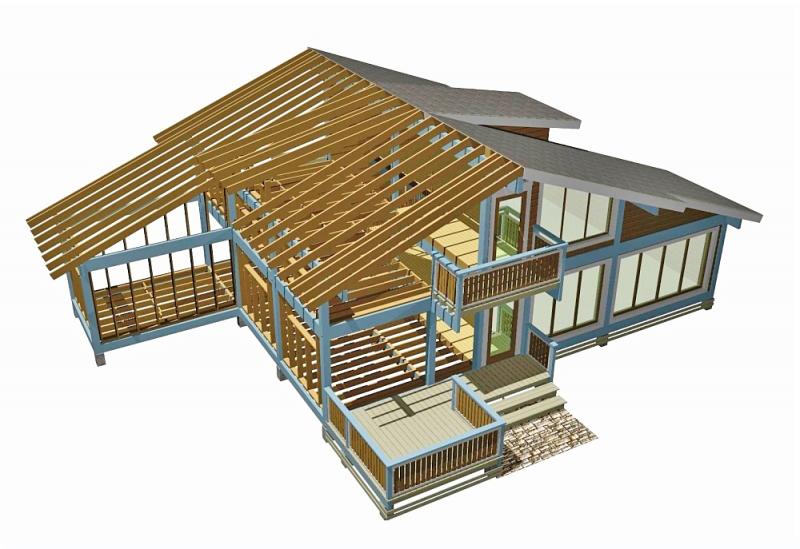 The laminated posts and beams bear the weight of the house and the pre-cut joists and wall studs complement the structures. All windows & doors are installed in the frame and sealed with insulation tapes to ensure airtightness.
Standard construction
You can download a list of the standard contents here.
With our standard Artic Frame construction the approximate U-values are:
Wall = 0,17 W/m²K
Suspended floor = 0,13 W/m²K
Roof = 0,13 W/m²K
The structures and U-values can naturally be modified even lower if you want to build a even more low-energy build. Please contact us when you want more information about the Artic Frame system and how much your build would cost with our system.
Building of an Artic Frame house
Here you can find a fast-forward version of building the Artic Frame 263, our flagship design. For more details, please do not hesitate to contact us.